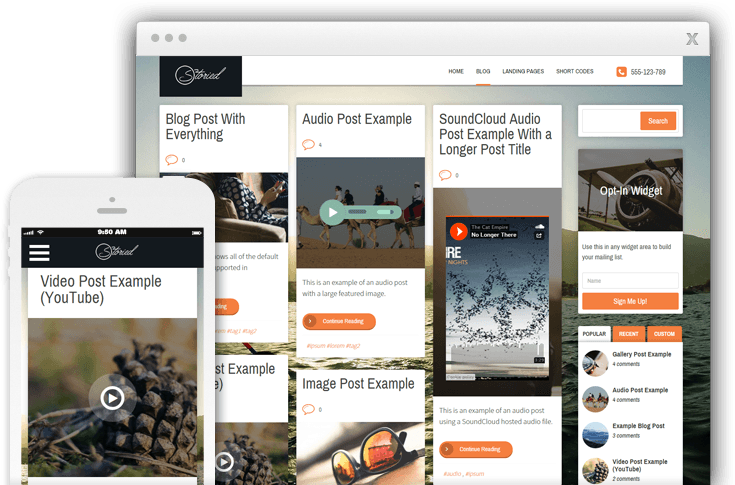 Storied is a theme that was primarily built for blogging. You have a story to tell and through beautifully formatted multi-media posts (video, audio, image and other media posts are supported), you connect with your readers and build your audience.
But of course, no theme is a Thrive Theme without a strong and clear conversion focus as well. Use stylish Focus Areas to grow your mailing list, add call to action buttons and other conversion elements to your posts and create stunning landing pages, sales pages, pricing tables and more. The perfect blog is one that creates a strong backbone for your business and that's exactly what Storied can do for you.
If your business revolves around blogging and story-telling, this is the theme you've been waiting for.


Built for Speed
We optimize all of the theme code to keep it as lean and light as possible and we add speed-boosting features as well.
Responsive Design
Everything about this theme is 100% mobile responsive, so your website will look great on any device & screen size.
Search Engine Optimized
The theme is built following SEO best practices, so your site is well-optimized and SEO ready out of the box.
Visual Theme Customizer
Set custom colors, custom fonts, custom backgrounds and more, to suit the site to your exact needs.
Extensive Admin Options
Set detailed preferences for the style and behavior of your site. Options are available site-wide and on individual pages.
Customizable Header
Choose from different header layouts and apply custom background colors, patterns or images to your site header.
Grow Your Mailing List
Built-in features allow you to display targeted opt-in forms on your site & connect to your autoresponder.
Automatic Page Generator
Create pre-built pages with just a few clicks. The page generator means you can get your sites set up in no time.
Fantastic Support
Get your questions answered and get hands-on help with technical questions from our awesome support team.
And that's just scratching the surface. Further features in the theme include a speed-optimized related posts gallery, automatic image optimization, built-in floating social buttons, multi-column extended drop down menus, click-to-call phone numbers, a font manager with 600+ fonts to choose from, a wide array of short codes and much more.
Quote:

Virus, Malware and URL Scanner(VirusTotal)




SHA256: 132e17ecc60c286344fad11b01ef62ab7af1bba34ee6108a499f21da76713019
File name: storied.1.200.25.zip
Detection ratio: 0 / 56
Analysis date: 2017-04-05 13:50:04 UTC

https://virustotal.com/en/file/132e17ecc...491400204/
Quote: