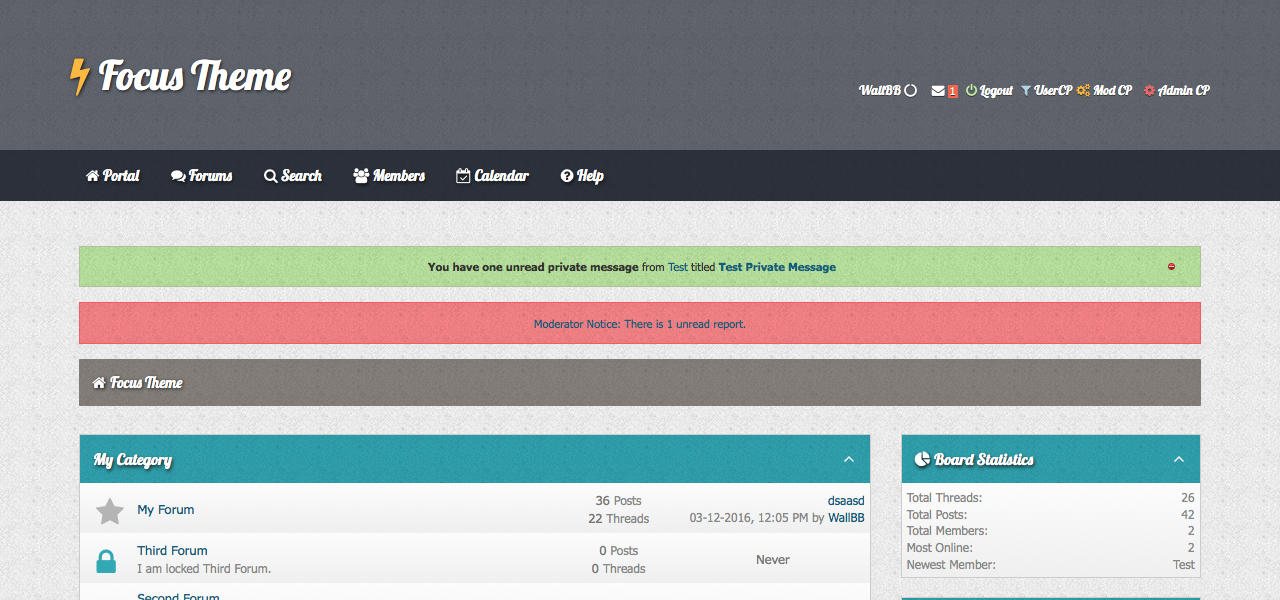 Project Details
Focus Resposive MyBB Theme version can be downloaded from
here.
Focus is a Simple, Clean and Elegent Flat MyBB theme which can be used by all sort of community users, one of the cool features of this theme is shrinking header on scroll which looks really nice and works smoothly across all browsers. Some of the salient features of this theme are :-
Clean design with blend of blue and white

Text based icon which automatically changes size on scroll

Sticky header on top

Use of font-awesome based icons

Css based buttons with icons

Social sharing icons on footer

Gradient based white grey color on postbit and threads listing

4 column based footer with about us section and advertisement links

Scrolling top icon on footer

Sidebar with board stats and Who's Online

Sidebar advertisement section

Use of google font (Lobster)

And lots of cool features, try this out


Focus MyBB theme is 100% Free to use and you can even edit the theme to your liking.
If you need any help, don't hesitate to
contact me
at all. I request you to not remove MyBB credits or
WallBB
theme's copyright.
To add latest thread in sidebar , please follow this post
http://community.mybb.com/thread-189771-...pid1217835
To add Forum Staff online in sidebar, please check this post :-
https://community.mybb.com/thread-189771...pid1239729
Support Thread :-
http://community.mybb.com/thread-189771.html
Git Link-
https://github.com/WallBB/focus-mybb-theme
https://community.mybb.com/mods.php?acti...ad&pid=671
This hidden content has been reported as still working 0 times this month.
3 times in total